Knowledge & Advice
Your Guide to Diamonds
One of nature's most precious gemstones, a diamond's uniqueness is derived from its cut, carat, colour and clarity.
Each diamond carries its own beautiful blend which determines its brilliance and value. Choosing a diamond engagement ring may feel overwhelming, but with a little understanding of the Four Cs as well as the types of styles available, you will feel confident in making the perfect choice.
What are the Four Cs?
Cut
The cut of a diamond is usually associated with its shape – such as round brilliant, princess cut, pear cut, and so on. When it comes to the Four Cs, it's about the quality of the cut, which affects the amount of light a diamond reflects to make it sparkle. Easily the most important of the Four Cs, an accurately proportioned stone will maximise the light it reflects to make it sparkle. In the jewellery trade this is referred to as fire and brilliance. Fire is the rainbow flashes of light reflected from within the stone. Brilliance refers to the diamond's brightness.
Colour
This refers to the lack of colour in a diamond, the lesser the colour, the higher the grade of diamond. The industry standard for colour grading is on a scale of D to Z; with D being absolutely colourless and the highest grade possible to Z having a noticeable degree of colour.
Clarity
Diamonds naturally form with surface blemishes or internal imperfections known as inclusions. The GIA (Gemological Institute of America) grades diamonds on a Clarity Grading Scale ranging from Flawless (F) to Included (I), the less blemishes and inclusions, the higher the clarity grade. In diamonds with a clarity grade of SI (Slightly Included) or better, these inclusions are generally not visible to the naked eye.
Carat
This is a measurement of the diamond's total weight and not its size. A carat equals 1/5 of a gram. Carat does not always directly influence how big a diamond will appear. A well-cut diamond with a slightly smaller carat weight can appear larger than a higher carat diamond that is poorly cut, because it will reflect more light. There are also plenty of ways to achieve a large look if a high-carat solitaire ring is out of reach – such as a halo or cluster style ring that groups together multiple smaller stones.
Learn more ›

What are Popular Styles of Engagement Rings?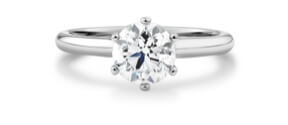 Solitaire
The most classic and iconic engagement ring style, a solitaire ring features a single diamond set onto a metal band.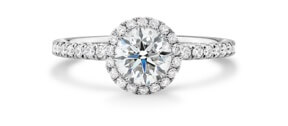 Halo
This timeless yet eye-catching ring style features a centre diamond or gemstone, surrounded by a ring or 'halo' of smaller diamonds to amplify its size and sparkle.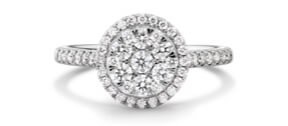 Cluster
Cluster engagement rings feature multiple small diamonds and/or gemstones, which can be set to resemble a larger stone or arranged into unique and beautiful shapes.

Why Michael Hill Diamonds?
Since 1979, we've been dedicated to creating beautiful, quality jewellery to help you mark the moments that matter.
Conflict-Free Diamonds
Michael Hill is committed to offering only conflict-free diamonds in our jewellery. We know that the story behind your diamond is as important as the sparkle.
Our Lifetime Diamond Warranty
Your love is for life, and so is our promise. If your diamond ever chips, breaks, or is lost from its setting in the course of normal wear, we'll replace it free of charge. (Available on qualifying products, T&Cs apply).
The Total Love Promise
We want to help you find the perfect one. If something isn't quite right, we've got your back with returns or exchanges for up to 30 days. (Exclusions and T&Cs apply).